Levels of CPR Training
Before registering, it is important for students to know levels of CPR.  There are 4 Levels of CPR which includes Level A, B, C and BLS. These levels are targeted to a particular audience since the general public is not getting the same training as those in the medical field.
In a CPR training, a person would be taught of the proper procedures in performing it and the important things that must be remembered. CPR Training can be required for workplace or school requirements. At Brampton First Aid CPR, we aim to provide our clients with right informaiton needed to fulfill their requirements.
Please see informaiton about levels of CPR level A, B, C and BLS below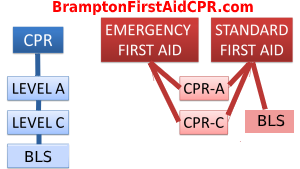 CPR Level A
CPR Level A is often recommended to lay rescuers who are interested in learning about the basics of CPR training. This cpr level introduces participants to CPR and choking procedures for adults and includes the importance of early defibrillation.
The CPR level A course contains extremely important, literally vital information about treating emergencies, and what's even better – it will take as little as just 4 hours of your time. The CPR Level A is provided through Canadian Red Cross courses
For more information about CPR Level A requirements, please look at CPR/AED course
CPR Level B
Level B course is designated for individuals in learning about CPR for babies only. This is often selected for babysitters and nannies who are involved in childcare.
CPR Level B also includes instructions on how to use an automated defibrillator on children. It does not include adult treatment methods, and therefore is not a substitute but a supplement to the CPR Level A course. This course has been previously offered through Red Cross.
Heart and Stroke offers Heartsaver CPR AED + Infant + Child which is also suitable for individuals interested in learning basic CPR training.
CPR Level C
CPR Level C covers all aspects of CPR skills and theory for adult, child and infants, including two-rescuer CPR skills. It is considered all Inclusive Approach. CPR Level C is often recommended to police, firefighters and lifeguards who may require comphrensive training for their work duties.
CPR Level C includes the following courses:
CPR Level BLS
Level BLS course is designed for professional responders and healthcare professionals, which requires more advanced life support skills.  The course provides Health Care Providers with skills to respond to medical emergencies (e.g., doctors, nurses, paramedics, and allied health care professionals).
CPR Level BLS includes the following courses:
Standard First Aid and CPR Level BLS – Valid for 3 years (Redcross or Heart and Stroke Foundation)
Basic Life Support (BLS) Course – Valid for 1 year (Redcross or Heart and Stroke Foundation)
In finding for a CPR class, a person must get a reliable provider of it. Brampton First Aid CPR  is a national training site of the Heart and Stroke and Red Cross. The company has been providing CPR classes in numerous locations across Brampton. Other classes provided are for BLS and First Aid. For more information, please contact us.