Security Guard Training Brampton
Learn more information about Security Guard Training requirements and practice working as Security Guard in Brampton.
You're probably aware that many professions require mandatory CPR training. Lifeguards, medical personnel, paramedics…but did you know that security guards are that category? That's right, in order to obtain your Security Guard License in Ontario, you need to have at minimum, Emergency Level First Aid & CPR. If you're considering a profession in the security industry read on to learn what you will need and how it can help you be successful in your career.
What level of CPR Training do I need for security?
According to the Ministry of Community Safety and Correctional Services to be eligible for a security licence, you must have a valid first aid and CPR certification. The minimum accepted level of first aid training is Emergency Level First Aid and CPR (1 day of training). The recommended level is Standard First Aid and Level C CPR, which is an extended program (2 days of training). Along with the CPR Training, it is required to complete in-person or online security guard course.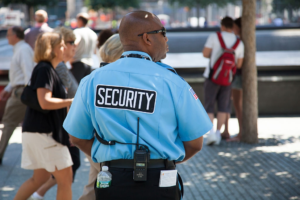 Become a Security Guard in 4 Steps
Simply purchase the course from our website with a credit card or e-transfer.
Once you have completed the required course hours, we will send you your TCN code and instructions to book your provincial Ministry exam.
In conclusion, basic cpr training is vital in order to practice as a security guard in Brampton, please do not hesitate to contact us. Brampton First Aid CPR provide wide range of services to meet your training needs. Our Courses are WSIB Approved to meet your employment or school requirements.
Visit BramptonFirstAidCPR.com today to learn more about how to get started in your career job.